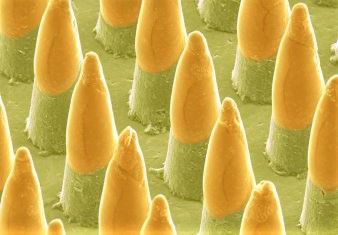 As published by 7 News, Vaxxas has signed an agreement with the Queensland government to produce enough needle-free vaccine kits to deliver 300 million doses each year.
Vaxxas agreed to produce its high-density micro Array Patch vaccine delivery system in Queensland after the Palaszczuk government committed to building a new medical plant in Brisbane. Treasurer Cameron Dick said the Vaxxas system had the potential to "revolutionise the delivery of vaccines around the world".
Vaxxas is a biotechnology company pioneering the next generation of needlefree vaccine delivery platforms with its Nanopatch.
The company's technology features thousands of micron-sized pointed tips, or projections, which help to deliver vaccines directly to the abundant immune cells found just below the surface of the skin.
Using the Nanopatch, the vaccination process is simple and safe, patient friendly, requires less vaccine than traditional injections into the muscle, and no refrigeration is required – this enables vaccines to be administered in areas that had previously been hard to reach.
The company formed in 2011 and has been harnessing the NCRIS-funded networks of  Microscopy Australia and ANFF ever since.
Read more about Vaxxas' technology platform by clicking here.