CMM Image of the winner!

December 2017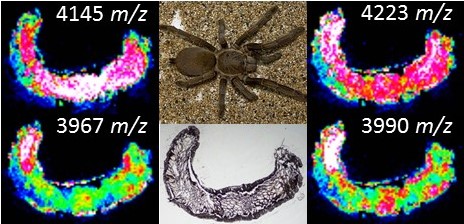 This image was taken by Renan Castro Santana using MALDI imaging as a part of a study into the regeneration of venom, after venom exhaustion, by Tarantula Spiders from North Queensland.  The spatial resolution was 40 um for this experiment.
CMM collects images to share online with the broader community. 
Please email cmm@uq.edu.au if you have an image (along with a short description of the image and/or project) that you would be willing to donate to CMM.  We are looking for 'high-res' Scanning Electron Microscopy or Transmission Electron Microscopy images, Diffraction pattern, Maps,  raw or modified, any processed analytical data as well as 3D models.
We look forward to receiving your image.  As a prize, each monthly winner will receive a Café Nano prepaid coffee card.
---